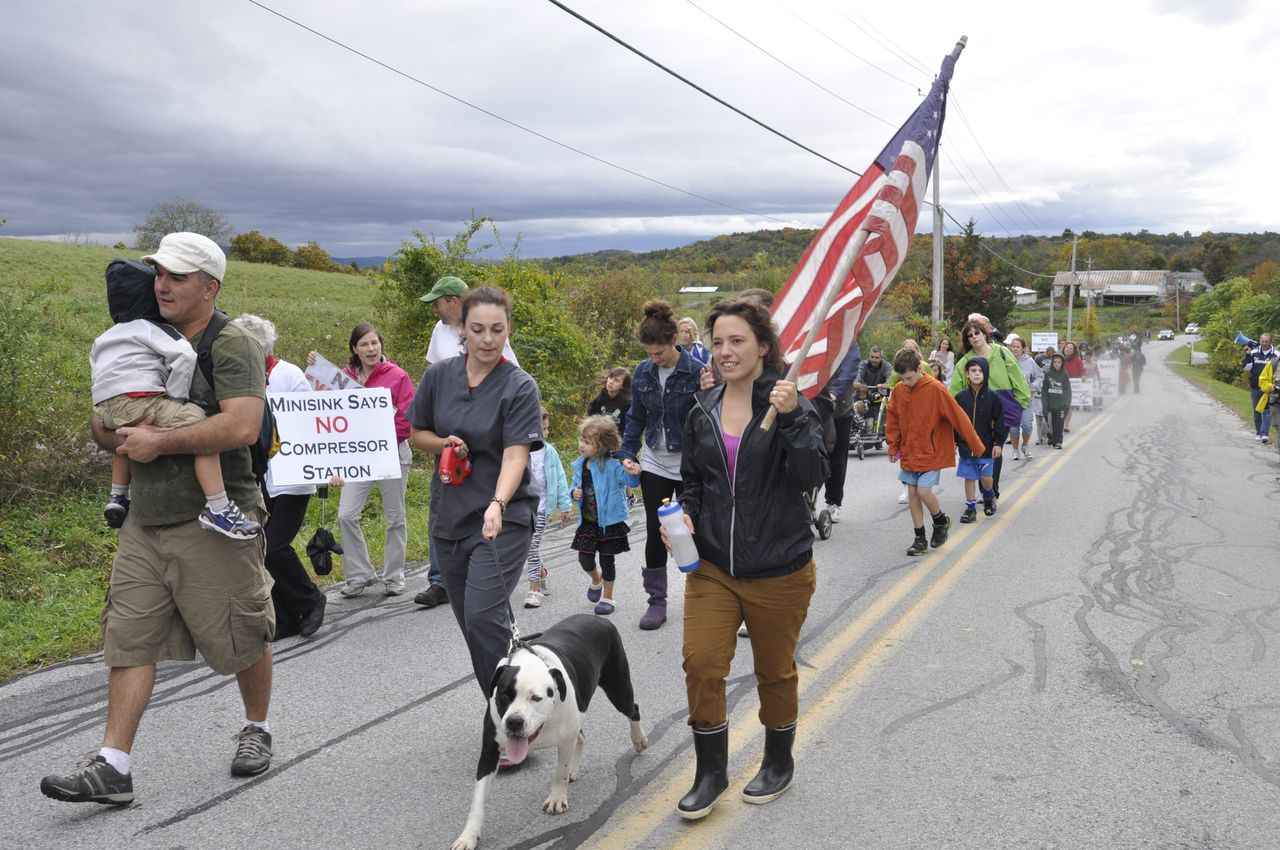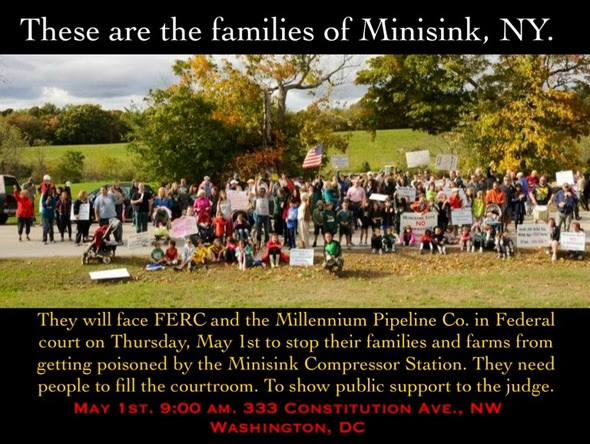 In 2011, Asha Canalos, along with her neighbors in Minisink, NY, launched what would become a nearly four-year battle against the gas industry and the the Federal Energy Regulatory Commission (FERC)- the agency responsible for approving over 99% of all fracked gas infrastructure proposals submitted- when a compressor station was slated for their agricultural and residential community. Minisink's case lasted nearly two years as a FERC docket before going on to the U.S. Court of Appeals, where it was heard in 2014. Though the community lost at the federal level, Minisink residents publicly disclosed previously unknown information about FERC's approval process, and set several important precedents, helping other communities currently under siege, and engaging the press, elected officials, activists, and the general public. More information is available at Minisink Matters and Stop the Minisink Compressor Station.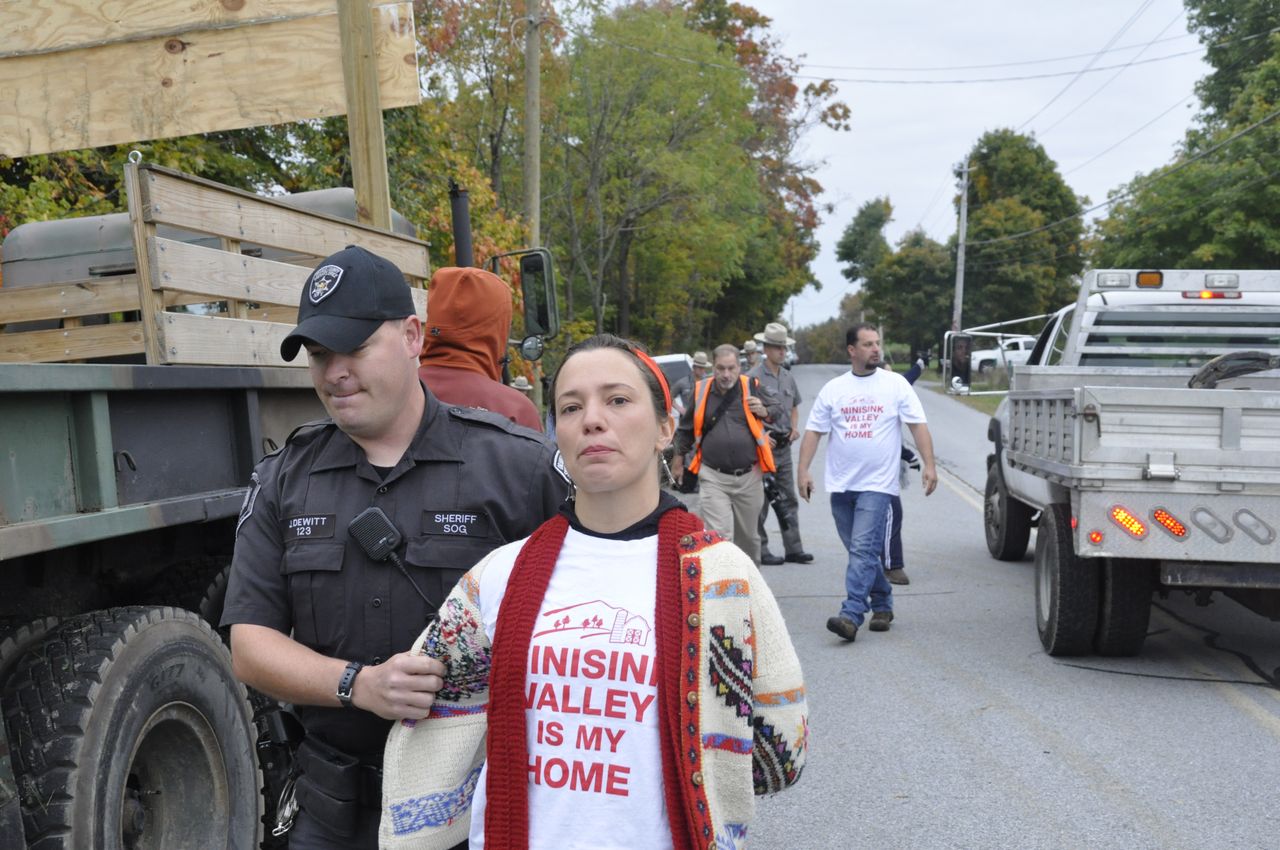 In October of 2012, Asha Canalos was arrested while blocking construction vehicles to the construction site of the Minisink Compressor Station, joining the first wave of New Yorkers to engage in civil disobedience in opposition to fracking infrastructure in the years after the Marcellus Shale 'gas boom.' It would be nearly two years before Minisink's case would be heard, but in the Fall of 2012, through FERC's 'tolling orders,' Minisink residents were prevented from going to court while the pipeline company was allowed to proceed cutting trees and beginning construction.
Photographs (this and 3 previous images), Yorke Flynn, 2012.
By April of 2013, Minisink had begun banding together with other communities fighting gas infrastructure in NY, PA, NJ, and MD. Minisink residents had initiated the first organized (mostly) silent protests at FERC monthly meetings in Washington, D.C. in early 2012. In April of 2013, Canalos and several others organized the first multi-state, multi-group protest at FERC headquarters. Canalos designed t-shirts emblazoned with a stamp for the event, signifying FERC's track record of rubber-stamping projects in favor of the industry. 'Docket No.' stamps allowed for each group to write in fabric marker the FERC code for the project they were impacted by, and actively fighting- and in the process, reclaim agency.
'We the People Matter Day of Action,' in April of 2013, was the first multi-state protest at FERC headquarters. Members of impacted communities wore Canalos's 'Docket No.' shirts during the meeting, and held up signs forming different messages during the course of the hour-long Commissioner's meeting. Groups represented that day included Minisink Matters, Stop the Minisink Compressor Station, Stop the (Constitution) Pipeline, Myersville Citizens for a Rural Community, Chesapeake Climate Action Network, Stop the Rockaway Pipeline, and Sane Energy Project.
'We the People Matter day of Action' protests were partially recorded by FERC's closed-circuit cameras, becoming a permanent part of FERC's own records.
Screen shot, video, FERC Monthly Commission Meeting, 2013.
Minsink residents' opposition could not be easily classified by either FERC or the gas industry as 'environmentalism,' a term often used to marginalize dissenters of fracked-gas projects. Minisink residents opposing the compressor project consisted of farmers, teachers, veterans of American wars, and a small community of 9/11 First Responders who had moved to Minisink- an hour away from NYC- to heal and find peace in the country setting. This image, designed by Canalos, depicts a beloved member of the community, a First Responder and former NYC cop, who helped give the Minisink community strength during the first rallies.
Another beloved member of the Minisink community, Doug Burd, a mechanic, American veteran, and longtime resident of Minisink took it upon himself to start fixing the cars of families impacted by/battling the Minisink compressor. He also created, with help from Minisink residents, the 'Minisink Matters Truck,' which was permanently parked at rallies and events in Minisink; which was gloriously driven several times around Union Square at the 'Minisink Matters' Rally in 2013; and with which hayrides were given to children at a Stop the TGP Rally in Minisink's PA sister city, Milford, just across the Delaware. This image is a tribute to Doug and his truck, and it became a regular graphic for Minisink Matters.
Minisink Matters Truck, 2012.
In the summer of 2013, Canalos co-organized a rally at Senator Gillibrand's office in NYC. Minisink residents called on Giliibrand- who ran a campaign based on her support of 9/11 First Responders, upstate farmers, and mothers/families- to act on behalf of her constituents to help shut down the Minisink compressor station. When no one from Gillibrand's office would come downstairs to receive the letter prepared by Canalos on behalf of the community, and after audio equipment failed, the letter was read out loud by bullhorn.
Canalos reads Minisink's letter to Senator Gillibrand by bullhorn at the 2013 Rally held in front of her NYC offices. A full video of the event, prepared by Peter Eliscu for Environment TV, can be found here.
In October of 2013, Canalos co-organized and MC'd the 'Minisink Matters- Save the Black Dirt Region' Rally at Union Square in NYC. The rally served to educate NYC consumers about the risks of fracking infrastructure to the city's foodshed- especially organic and local foods. Additionally, the rally helped foster awareness of Minisink's case at the U.S. Court of Appeals, and to garner needed funding for Minisink's ongoing legal fees. Special guests included playwright and activist Eve Ensler; founder of The Mothers Project, Angela Monti Fox; Co-founder and co-director of Sane Energy Project, Clare Donohue; Kady Ferguson of the Brooklyn Food Coalition; and Will Blunt of Chefs for the Marcellus.
Photo- Asha Canalos and Kim Fraczek of Sane Energy Project- Michelle Susan, 2013.
Eve Ensler, an early and continuous supporter, spoke passionately about the need to protect our planet and our collective futures at the 'Minisink Matters' Rally at Union Square. Canalos received a grant for her work as an artist involved in community-organizing from Eve Ensler and her organization, V-Day, which partially funded Minisink's fight at the U.S. Court of Appeals.
Photo Michelle Susan, 2013.
Much of the true reason for Millennium's compressor station in Minisink, NY, was to service a giant fracked-gas power plant slated for the next town over, Wawayanda, NY. In their applications to FERC, Millennium Pipeline failed to be forthcoming about their relationship to the company intending to build the plant- Competitive Power Ventures (CPV)- though agreements had already been signed between the two companies years before. This illegal, but surprisingly common practice of not disclosing connections between large projects, is known as 'illegal segmentation.' While Minisink residents knew and proved this was the case, they still had to mobilize to concurrently fight the CPV Valley power plant. Canalos designed this and other images, used on websites, fliers, and brochures distributed to the public, in 2014-15. More information on the power plant and ongoing opposition can be found at Protect Orange County.
Another image designed for the fight against the CPV Valley fracked gas power plant in Orange County's famed 'Black Dirt' agricultural area, this map indicates the slated location of the facility. Map graphics were and are critical to alerting and engaging the public- in this case, Orange County, NYC, and NY state- as to the threats posed to NY's food and watershed by the rapidly growing fracked gas infrastructure invading the state.
CPV Valley Map, 2014.
In 2014, Sane Energy Project (NYC) and community organizers across the state collaborated on the first comprehensive, interactive map of gas infrastructure and resistance in NY, the You Are Here project (YAH). Canalos was a contributor to the map and helped shape informative talks given in NY and regionally. In 2014, You Are Here was presented at the People's Climate March in NYC. Pictured here is Minisink resident Doug Burd, Asha Canalos, and local activist Melanie Gold, at the proposed site of the CPV Valley fracked gas power plant in Wawayanda, NY.
Vera Scroggins is a legendary community organizer and citizen journalist, who has for years given tours of the damage caused by fracking in Pennsylvania- engaging numerous elected officials, members of the press, notable celebrities, and international audiences. Scroggins was among the first activists to reach out to the Minisink community in 2011, attending rallies and supporting early efforts at opposition. In 2015, Scroggins was taken to court by the gas industry, on false charges of trespass, during which pipeline lawyers demanded her private communications be subpoenaed. Canalos designed images to help Scroggins raise funds for her defense. This image was used by The Mothers Project during a funds drive for Scroggins in 2015.
This image of Vera Scroggins was created by Canalos to assist with ongoing fundraising required for Scroggins' legal defense and court costs in 2015. The image was used in this video by Environment TV, this and other articles by journalist Paul Stark, other connected campaigns, and on social media platforms, amplifying Scroggins' message and helping to inform and engage the public.
Asha Canalos is now beginning an interdisciplinary project called Acts of Folk Art, a series of collaborations with activists and communities impacted by the oil and gas industry. In this ongoing project, Canalos is producing graphic images and related short videos, in efforts to help frontline communities alert, engage, and mobilize the public.
Activism + Activist Art